Diver Turned Grower Focuses on Newfoundland's Sustainability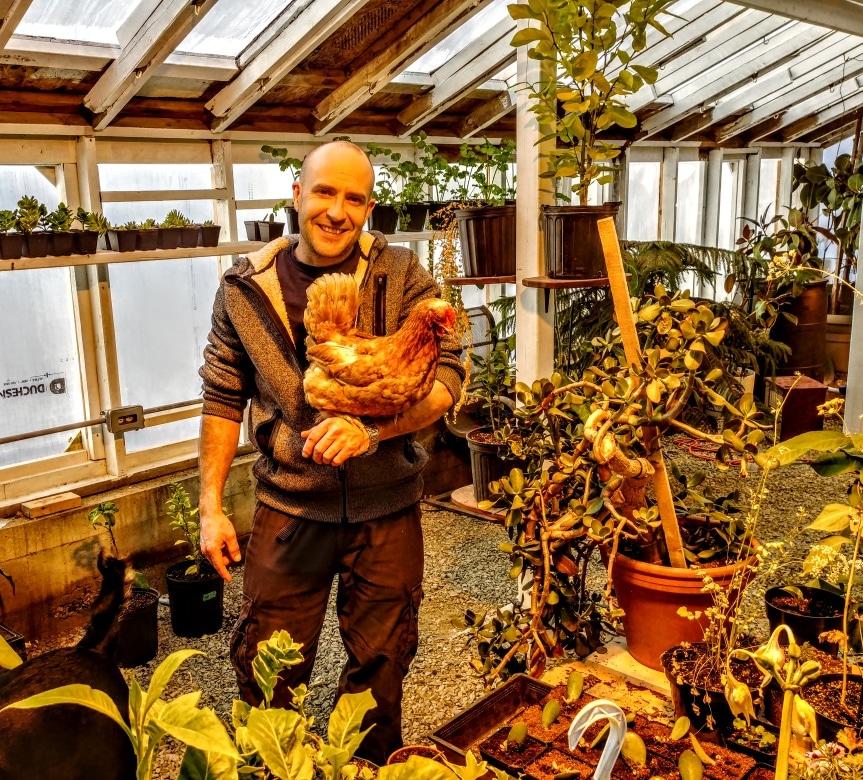 CONCEPTION BAY SOUTH, NL – Not often do a Rottweiler, a chicken, a rabbit and a cat peacefully co-habitat outside of a Disney movie, but in Steve's hydroponic growing supply store, the animals are happy shop-mates.
Steve Ivany is the owner of Good 2 Grow NL in Conception Bay South, Newfoundland. Good 2 Grow provides home hydroponic growers with the necessary supplies and equipment to successfully start and manage a hydroponic garden.
A heart for sustainability
For the store, Steve went back to his roots. "My parents were gardeners and I grew up around plants." He also recognized a promising new business opportunity: "I knew I would be able to capitalize on the upcoming legalization of marijuana."
The 2018 legalization has indeed been a boost to business, but at the heart of Good 2 Grow is sustainability.
Steve believes supporting home growers and encouraging Newfoundlanders to produce their own food is an essential part of making the Province more self-sufficient.
"Hydroponics requires little space and uses a small amount of resources. You can grow a lot of things quickly," says Steve. "Moving into the future, I think hydroponics is going to become more commonplace."
Before opening his store in October 2016, Steve spent 20 years as a commercial diver in Newfoundland's oil industry. For four of those years, Steve was a saturation diver.
Saturation divers perform underwater work hundreds of feet below the surface and live inside carefully pressurized and small saturation chambers. For the length of the job – maximum of 28 days in North America – they breathe a combination of gas called heliox (helium, oxygen and nitrogen) and live without access to fresh air or sunlight.
Saturation divers spend six-hours a day working in extreme, often high-risk, conditions. Detoxing before returning to the surface requires a full day per 100 feet.
Steve's max dive was 475 feet, deeper than the Great Pyramid of Giza is tall.
When the oil industry in Newfoundland drastically slowed, Steve found himself without a job.
"I sat around, waiting for work to come back, before I decided to make something for myself," says Steve.
The need for self-sufficiency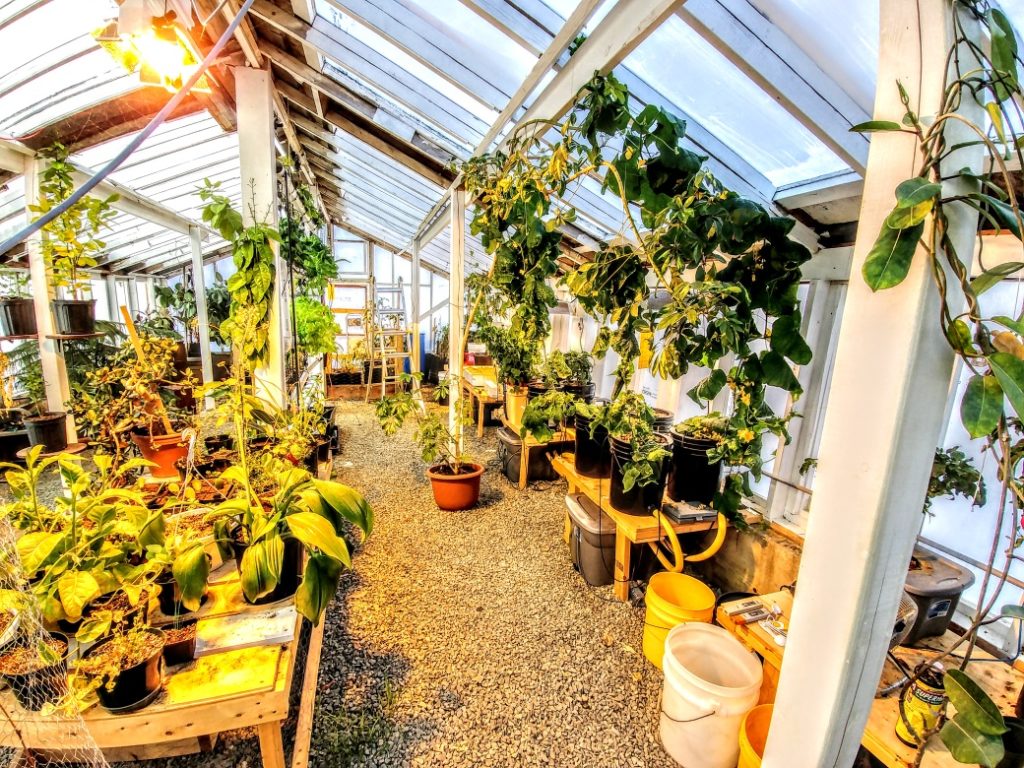 A 2007 report from The Department of Natural Resources, Division of Agrifoods, says that Newfoundland imports 90% of its vegetables. In total, 71% of Newfoundland's food supply is imported from off-island[i].
"There were no boats yesterday. No boats today and there won't be boats tomorrow due to winter conditions," says Steve. "In the next three days, the produce section of grocery stores will be empty."
Steve practices what he preaches. He has his own vegetable garden where he grows, among other things, carrots, lettuce, spinach, cucumbers and potatoes. He has 70 egg laying chickens and four beehives. Steve sells the eggs and honey in his store.
"I don't need to buy much from the produce section of the grocery store," he says.
Supporting first time growers
When asked about advice for first time growers, Steve says, "Just do it."
"It's easy to grow things, but we've lost the skill. People are so afraid of killing stuff. I can't even begin to tell you how many plants I've killed," he says, stressing that people shouldn't get discouraged. "Trying it is the only way to learn."
Steve hasn't personally tried every product in his store, though he has given a substantial amount of them a go. Often Steve learns what does and doesn't work at the same time as his customers.
"Anyone can tell you what to do. I can tell you what not to do."
One of the products Steve is currently using with great results is CleanAgro20 by Huwa-San® Technology, the stabilized hydrogen peroxide sanitizer from SanEcoTec.
"It keeps everything clean and prevents lines, drippers and misters from clogging. And of course, the added oxygen is super beneficial for the roots."
Steve heard about SanEcoTec from Ashley Hillier, the Company's Water Quality Coordinator based in St. John's who dropped by the store one day and extended her visit after seeing Charlee and Penny, the Rottweiler and chicken.
"She explained about the sanitizer," says Steve, mentioning that the stabilization that keeps CleanAgro from breaking down in water intrigued him. "She left me her information, which came in handy because not long after, I could no longer get hydrogen peroxide from my regular suppliers in manageable sizes."
Likewise, Steve was intrigued by some of the SanEcoTec literature which described improved plant growth using their hydrogen peroxide. "It's certainly worth a try."
Furry-friends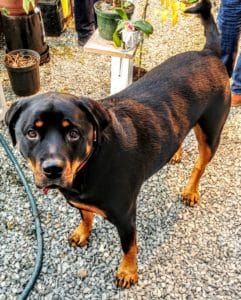 Customers have left numerous glowing reviews on the Good 2 Grow website about Steve's service and knowledge. Though it's a drastic career change from saturation diving, Steve's surrounded himself with the things he loves – plants and animals.
Steve says that visitors to the store often stay longer once they spy one of his furry or feathered-friends.
He adds that some people are more afraid of a four pound chicken than a 130 pound rottweiler, something he finds astonishing.
"What's a four pound bird going to do to you?"
[i] Food First NL